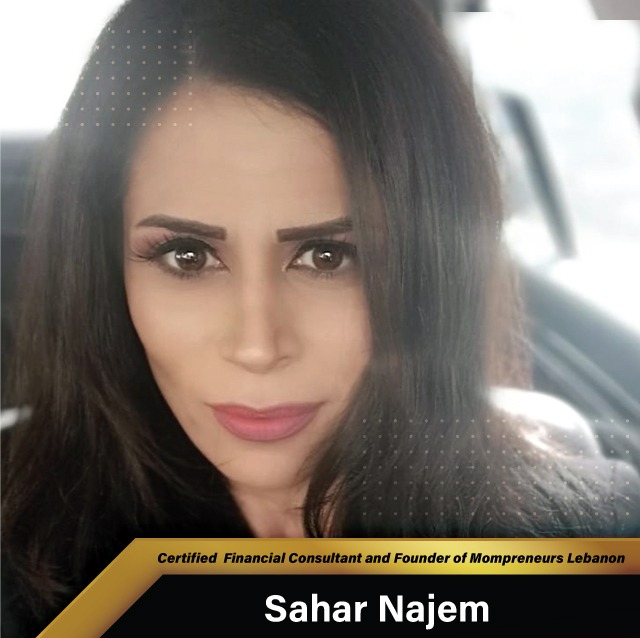 Sahar Najem
Certified  Financial Consultant and Founder of Mompreneurs Lebanon
Miss Sahar  Najem is a Certified Business Consultant(CFC) and a Finance manager at a Lebanese Offshore Company. She holds a master's degree in Business Administration and an MA  degree in Accounting and Auditing.
Miss Najem has Fifteen years of practical experience in the Finance Industry between Lebanon and Dubai and more than 5 years in consultancy serving mainly small and medium enterprises. In addition to attending several training courses and workshops, Miss Najem has undertaken various projects and conducted many online streams to support startups and encourage female entrepreneurs to lead their own businesses.
Starting from an online platform with zero capital, she became the founder of "Mompreneurs Lebanon "- NGO, a legal organization connecting mompreneurs from all over Lebanon and encouraging business collaborations, conducting workshops with professional coaches, and networking with qualified professionals and mompreneurs with successful and promising start-up projects.
With her strong personality and leadership skills, Mrs. Najem is recognized as a success story, and a person passionate to succeed. Her willingness to apply new techniques and support mompreneurs is outstanding, and her positive attitude in times of stress and the ability to adapt to business challenges and changes is remarkable, leading her to be a known face to the media targeted at highlighting and raising awareness to such initiatives.
---